Preschool and Pre-Kindergarten
Our preschool programs for 3, 4, and 5-year-olds are where you will find HighScope™ and Conscious Discipline™ shine! Ours is an Active Learning approach that enhances your child's initiative and decision-making skills. Our teachers offer ample opportunities to help your child set meaningful goals, learn important skills and concepts through play, and become socially competent. We believe in an Emergent Curriculum that uses your child's interests as a starting point in lesson planning.
THE DAILY SCHEDULE: A consistent daily schedule is a balance of child-chosen and teacher-directed activities. We also balance large group time with small group sessions. Each morning children are personally greeted as part of the classroom family. The following are elements of your child's day:
PLAN: At the start of work time, teachers and children talk about activities that are available that day. Each child makes a plan of activities for himself/herself and chooses where to work.
DO: The classroom is divided into areas including blocks, housekeeping, manipulatives, and puzzles for fine motor skills and comprehension, and a quiet place with books, writing, art, gross motor, science, and math. The areas are well stocked, and teachers plan activities to support a developmental domain. It is what we call purposeful play. During work time, children follow through on their plans and choose where they won't work. They move freely between activities. We help children develop critical thinking skills as they follow their own interests. Teacher support children's learning by asking challenging questions that require children to make predictions or think through a problem.
REVIEW: When work time is over, children recall their plans and actions with a teacher and a small group of classmates. This unique process helps children connect their choices to outcomes.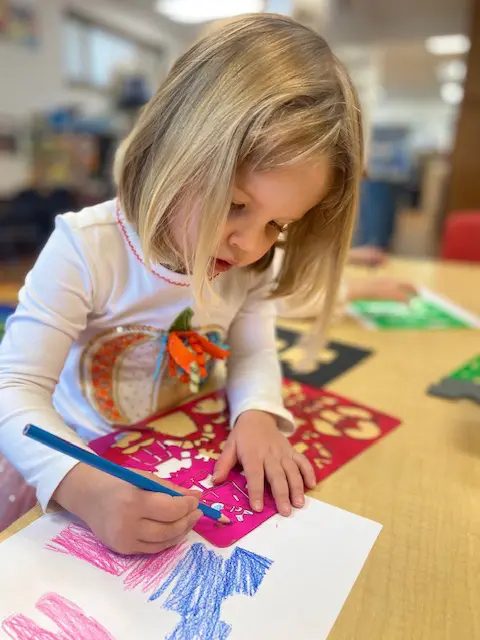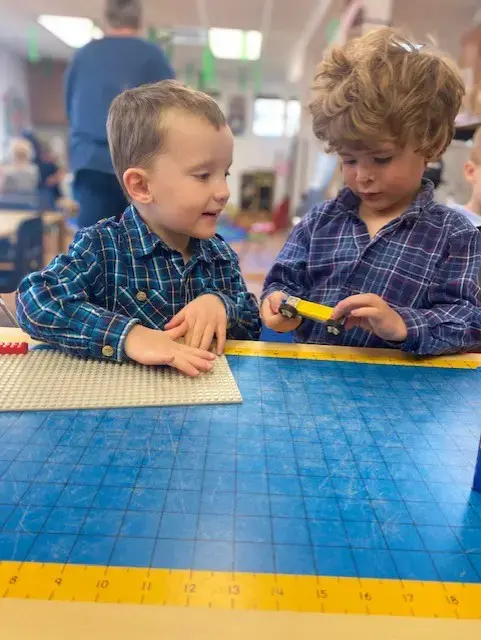 Your child is assigned a primary teacher who is responsible for assessment and planning for a small group of children. The small group meets every day for a teacher-led activity. The offerings change daily to include math, literacy, science, geography, and technology.
During this time, children are active in song, music, movement, dance, and gross motor games. Coming together as a class builds a sense of community and belonging.
We love to play vigorously in the fresh air! This is a time to run, jump, stretch, climb, shout and sing! It's a time to appreciate nature and do some gardening. Also, there may be art or science projects happening in the play yard. The learning never stops!